Mixing
Out of the box or in, grunge or shimmer.
BEFORE SENDING ME YOUR TRACKS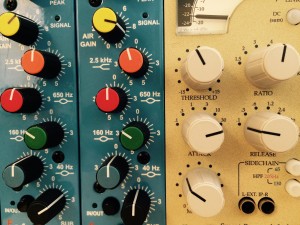 Make sure you have adequately prepared your sessions. I accept the following formats:
- ProTools sessions.
- LogicPro sessions.
- Raw WAV or AIFF files exported from another DAW – be sure they are all time-aligned; they must be consolidated from start to finish and have the same start times!
- Sessions can be delivered via physical media, DropBox or Hightail (preferred).
ADDITIONAL CONSIDERATIONS
Ever heard the saying, "you can't make a silk purse out of a sow's ear?" The same can be said of mixing. While I can certainly "rescue" to some extent a poorly-recorded track, any given mix will only be as good as the song, the performance, and the recording!
I do perform editing, pocketing and tuning, but I charge by the hour for these additional services.
RATES
$150 – $250 per song, depending on scale and complexity or negotiable album rate.
Contact me for more information.