Recording/Gear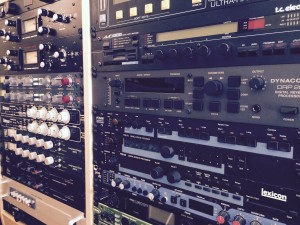 Originally designed as a mixing-only facility, Cueva del Fuego has evolved into a well-equipped project studio. Tracking space is small, comfortable and ideal for just about everything but monstrous drums (Never fear – I've got another place for that!). Acoustic guitars, screaming half stacks and hushed vocals have all been cut in the cave.
What do I charge?
Go here for rates.
While I despise the gear arms race, I've…totally decided to participate:
CONSOLE:
Solid State Logic Matrix
HEAVILY modified Soundcraft 2400 (laugh all you want!): re-capped, up-chipped, API summing bus (with Red Dots), transformer-balanced outputs. Phat.
CONVERTERS/CLOCKING:
Apogee DA-16X (x2), Apogee Rosetta 800 (x2)
Antelope Isochrone OCX
MONITORING:
Unity Audio The Rock Mk II
DAWS:
Pro Tools 11/12 HD
Logic Pro X
Presonus Studio One 3
PLUGS:
All SoundToys
Some Sonnox
A ton of Waves
A few Eventide
Exponential Audio reverbs
DELAYS/REVERBS/FX:
t.c. electronic M5000 (x2)
Lexicon PCM 42
Lexicon PCM 60
Lexicon PCM 70
Lexicon PCM 80
Eventide H3000 (Eventide enthusiast?  Contact me for maintenance info.)
Dynacord DRP-20
Roland SDE3000 (x2)
Line 6 Echo Pro (x2)
Yamaha SPX900
Yamaha D5000 (one of the best digital delays ever made!)
DYNAMICS:
Landmine Custom Electronics LFC-7 FET Limiter (x2) – these are the boxes being used on Grammy-winning recordings around Nashville
Landmine Custom Electronics LVLA-2 Stereo Tube Limiter
Millennia TCL-2 Stereo Optical Compressor
Smart C2
Smart C1LA
Elysia XPressor
BAE (Brent Averill) 10 DC Compressor/limiter (x2)
Daking FET Comp (x2)
Distressor (x2)
dbx 160x (x2)
Electro Harmonix NY-2A
Valley People Stereo Dynamite (the cool stacked-in-a-plastic-case one)
dbx 263x De-Esser (x2)
dbx 1074 Quad Gate
Calrec DL-1656 (x2)
Art Pro-VLA II (inexpensive and awesome)
Lee Jackson Creamy Compressor 500  (bizarre and fun)
EQ/OTHER FUN STUFF:
Tube Tech PE 1C Pultec
Maag EQ4 (x2)
API 560 (x2)
API 550b (x2)
Altec 1592a mic/line mixer – groovy 70′s vibe-in-a-box
Pioneer "Hi-Fi" Stereo Spring Reverb
dbx 500 Subharmonic Synth (BOOM!)
dbx 128 Compressor/Expander thingy
Landmine Custom Electronics 16×4 Summing Amp Prototype
MIC PRES:
Millennia HV-3D
Vintech 273
API 3124
Retro Instruments Powerstrip
Presonus MP20 (HIGHLY underrated – get 'em cheap!)
Landmine Custom Electronics "Tubenstein" weird prototype mic pre, line amp, DI, distortion generator with tone controls.